Map of Gaziantep- Turkey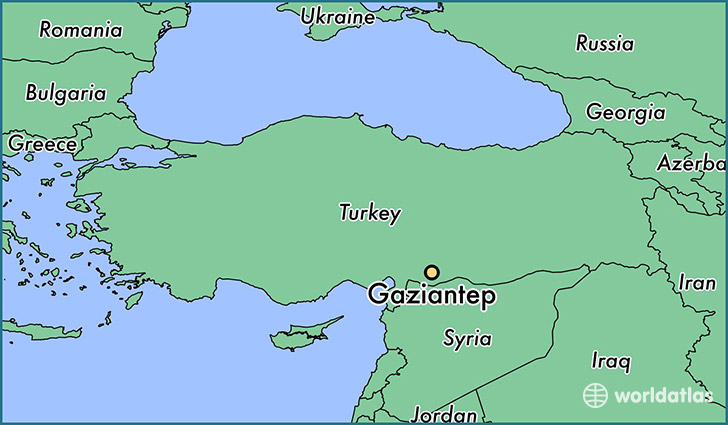 Gaziantep, previously and still informally called Antep, is a city in the western part of Turkey's Southeastern Anatolia Region, some 185 kilometres (115 mi) east of Adana and 97 kilometres (60 mi) north of Aleppo, Syria. The city has two urban districts under its administration, Şahinbey and Şehitkamil. It is the sixth most populous city in Turkey and one of the oldest continuously inhabited cities in the world. In 2014 the city of Gaziantep had a population of 1,465,019.
Language: Turkish
Currency: Lira (TRY)
Climate
Gaziantep has a hot-summer Mediterranean climate (Csa in the Köppen climate classification) with influences of a continental climate during winter with hot, dry summers and cool, wet and occasionally snowy winters.
Economy
Gaziantep is famous for its regional specialities: Copper-ware and "Yemeni" sandals, specific to the region, are two examples. The city is an economic center for Southeastern and Eastern Turkey. The number of large industrial businesses established in Gaziantep comprise four percent of Turkish industry in general, while small industries comprise six percent. Also, Gaziantep has the largest organized industrial area in Turkey and holds first position in exports and imports. The city is centre of the Green olive oil- based Nizip Soap industry.
Traditionally, commerce in Gaziantep was centre in covered markets known as 'Bedesten' or 'Hans', the best known of which are the Zincirli Bedesten, Hüseyin Pasha Bedesten and Kemikli Bedesten.
Gaziantep also has a developing tourist industry. Development around the base of the castle upgrades the beauty and accessibility to the castle and to the surrounding copper workshops. New restaurants and tourist friendly businesses are moving into the area. In comparison with some other regions of Turkey, tourists are still a novelty in Gaziantep and the locals make them very welcome. Many students studying the English language are willing to be guides for tourists.
Gaziantep is one of the leading producers of machined carpets in the world. It exported approximately US$700 million of machine-made carpets in 2006. There are over 100 carpet facilities in the Gaziantep Organized Industrial Zone.
With its extensive olive groves, vineyards, and pistachio orchards, Gaziantep is one of the important agricultural and industrial centres of Turkey.
Gaziantep is the center of pistachio cultivation in Turkey, producing 60,000 metric tons (59,000 long tons; 66,000 short tons) in 2007, and lends its name to the Turkish word for pistachio, Antep fıstığı, meaning "Antep nut".
In 2009, the largest enclosed shopping center in the city and region, Sanko Park, opened, and began drawing a significant number of shoppers from Syria.
Cuisine
Food in Gaziantep is different from the cuisine in other parts of Turkey because of the influence of Oğuz Turks and the culinary traditions of nearby Aleppo which was an important regional administrative center of the Seljuk and Ottoman empires. The difference is noticeable in its rice dishes, soups, kebabs, köfte (meatballs), etc. The meatballs come in varieties of çiğ köfte, içli köfte, meatball with malhita (lentils), sour small meatballs, and small meatball with yoghurt. Gaziantep's food is known for being spicy compared to other Turkish cuisine; many of the local specialties as well as savory foods shared with other regions of Turkey are prepared with Aleppo pepper, a type of chili pepper, and paprika.
Antep's desserts include the sweet pastry baklava, burmalı, künefe, kadayıf, etc. In 2013, Gaziantep baklava became the first Turkish product with a European protected designation of origin and geographical indication.[18] Antep is also famous for its slender type of pistachios.
Its kebab varieties include the kıyma (minced meat) kebab, kuşbaşı (meat cut in goulash-type cubes) kebab, simit kebab, patlıcan (aubergine) kebab, ciğer (liver) kebab and soğan (onion) kebab. There is also lahmacun, yuvarlama (mas soup) and karışık (mixed) dolama (a preparation made of different types of vegetables, yoğurtlu patates (potato with yogurt), beyran, etc.)
Popular culture
Gaziantep was made famous in Bulgaria and Greece by the Turkish TV series Yabancı Damat (literally The Foreign Groom), known in Bulgaria as Брак с чужденец (Marriage with a Foreigner), a love story between a Turk and a Greek. In Greece, the popular TV series is known as Τα σύνορα της Αγάπης (The Borders of Love). It is a love story between two youngsters, Nikos, a Greek boy, son of a wealthy Athenian ship owner; and Nazlı, daughter of a Gaziantep baklava maker. Due to the historic rivalry and hatred between the Greeks and Turks, a love affair between these two youngsters is received badly by both families. The dislike between the two families increases as the episodes pass, with the Turkish family being more strict towards their daughter. The main culprits, however, are the two grandparents (Nikos' grandmother and Nazlı's grandfather), who reach extreme points in order to stop the youngsters' wedding. The TV series was launched in 2004 and was later also shown in Serbia, Croatia and other Balkan countries.
Transportation
The city is served by Oğuzeli Airport, which has commercial flights to domestic and regional international destinations.